The last two months of this past spring semester were the hardest two months of my entire life, Red Sox experience included. I got to New York City for my summer excursions and was beyond burnt out.
So, I decided to buy a Holga and some 120 and make some fun pictures for myself. I just got my first roll back today and thought I'd post my five favorites (out of 12...also known as the five that turned out; shot on Ilford XP2 400). I just took in a roll of color film, which I'll pick up and post next week when I return from Boston. But for now, enjoy:
A jazz trio in Washington Square Park
When the weather isn't so great, the LaGuardia flight path pays us a visit.
Thanks to all the June rain, I can actually drown out the sound of a 747 30 seconds before it touches down.
Times Square, to which I have a curious attraction. I like the giant man "on the street" in the left, a byproduct of me not winding my film far enough.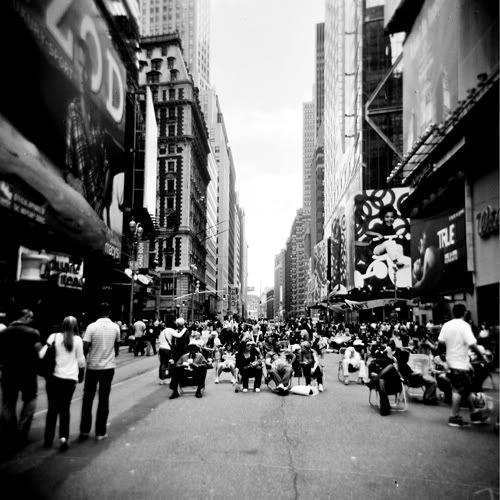 People just chillin' in the middle of Times Square, where there are tons of folding chairs available for your sitting pleasure.