I've decided that Friday posts will showcase photos that have a bit more of a story behind them and that are a bit nearer and dearer to my heart. While browsing a folder this afternoon in search of another image, I came across a bunch of photographs from my days at
The Daily Free Press
 (the independent student newspaper at Boston University). 
Looking back, all the misery that accompanied the 40 unpaid hours I spent there every week was totally, completely, absolutely worth it. We worked hard and partied harder and grew to be one big, dysfunctional, loving family. I can trace the roots of some of my best friendships to life at 842 Commonwealth Avenue. The photo below has always been one of my favorite: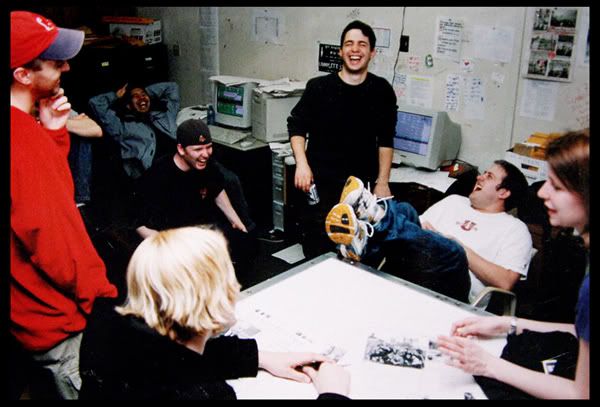 Here we are, the members of the editorial board, sitting around the light table in the production room waiting for the last issue of the newspaper to upload to the publisher. It was about 8:00 a.m., no one had slept much in the past few weeks, our GPAs were in shambles, and our roommates had probably forgotten what we even looked like. 
But, with champagne chilling in the microfridge, some of the world's most poorly-made cigars ready to be lit, and the end in sight at last, we were happy.