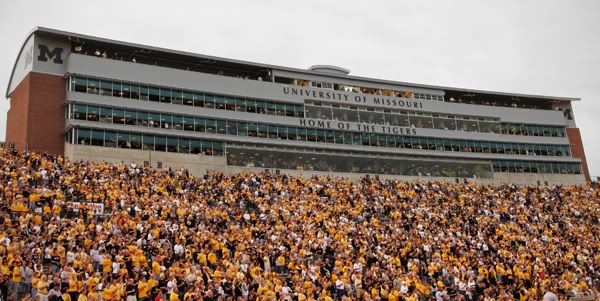 I got my undergraduate degree at Boston University, a school well-known for its hockey team...and not so much for its football team. Mainly because it hasn't existed since 1997. So I grew up in a collegiate world devoid of one of the most basic tenets of the whole college experience: football. Save the time I photographed the Harvard/Yale game in 2004 when I was working for the Harvard News Office, I have neither photographed or even seen live college-level football...until tonight.
For my editing class, I signed up to edit football photos on-site and, as an added bonus, I got to shoot a bit at the start of the game, as there wasn't anything for me to edit yet. Because the game started at 6 p.m., there was a fairly tight turn-around for the first round of photos in contention for the cover. I shot about 15 minutes - probably less - of game action before I rounded up the cards from the other two photographers and hustled to the top of the press box at Faurot Field to edit away. It was a great experience for so many reasons and I'm excited about next week, when I'll be able to go to the game as a fan.
Here are some shots I liked from tonight, the second-to-last (penultimate!) shot being what's running on Sunday's cover. Thanks for looking!
Oh, and the Mizzou Tigers absolutely destroyed the Southeast Missouri State Whatever-Birds: 52-3.