The following photos are my final edit of the classmate assignment for my photo class. The project was to do a story on a classmate and I was paired with Matt Cloud. I am proud to say that this is the first successful story I have done that has not been directly related to a sporting event. Progress feels good.
---
Matt Cloud, a junior at the University of Missouri – Columbia, listens to his friend Billy Herbert tell a story during lunch Wednesday afternoon at Plaza 900 dining hall. Cloud is a double major studying Anthropology and Photojournalism, an educational combination that he hopes will help him land his dream job. "I really want to work for 
National Geographic
," Cloud says. "It's all an excuse to travel."
---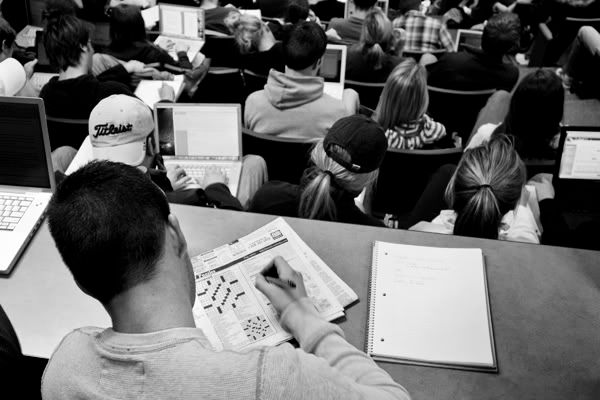 During his Monday morning lecture on Communications Law, junior Matt Cloud concentrates on the 
USA Today
 crossword puzzle, breaking occasionally to take notes from the back row of Fisher Auditorium on Mizzou's campus. Cloud says he tries to do one a day in an attempt to "stave off Alzheimer's" (his grandfather has the disease) and to see "how much useless crap I can know." After he either finishes or gives up on the crossword, Cloud does the word search, but says he has no interest in the sudoku puzzle. 
---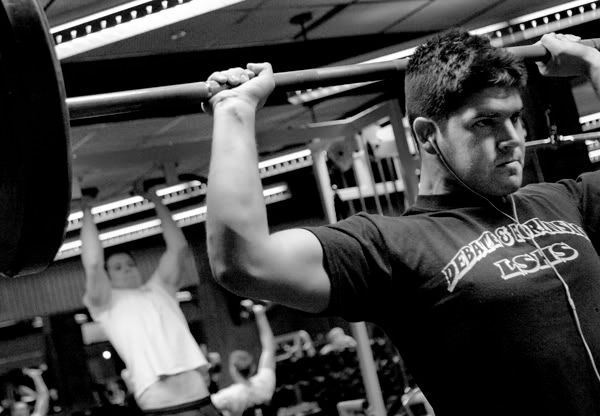 Matt Cloud does a set of shoulder presses (not including the bar, he lifts 70 kilograms, which converts to 154 pounds) to begin his workout Wednesday afternoon at the Mizzou's Student Recreation Complex. Cloud works out at the gym four to five times a week with a rotation of exercises to work specific areas of muscles and a "smattering of abs" throughout the week. He says he has to work out constantly to add bulk to his frame, otherwise "[he'd] be really bad at rugby," a physically demanding contact sport.
---
Matt Cloud and Billy Herbert laugh about annoying classmates during their regular lunch at Plaza 900 Wednesday afternoon. The two friends meet every Monday, Wednesday and the occasional Friday around one, a tradition that began last year after they met through playing together for Missouri's rugby team, a club sport. Plaza 900 is a convenient meeting place because it is close both to Herbert's next class and to the gym, where Cloud lifts weights immediately after lunch.
---
After completing his weekly food shopping, Matt Cloud rolls through the Wal-Mart parking lot Wednesday afternoon on the way to his car, which is parked in a distant corner of the lot, "a tradition," says Cloud. He purchased a variety of healthy foods, including Tropicana orange juice (with lots of pulp, "I want it to be like a smoothie"), Smart Balance Omega Peanut Butter, bananas, and one treat: a four-pack of Guinness beer. "Ideally, to bulk up for rugby, I need to eat 4,000 calories a day," Cloud says. "But that never happens ever."
---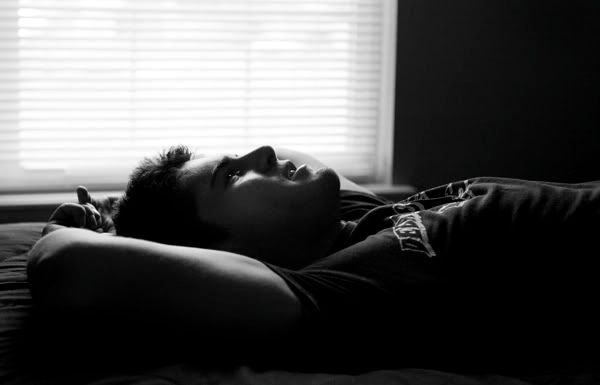 Matt Cloud relaxes for a bit on his bed Wednesday afternoon in a house he shares with one roommate just north of Columbia. When Fridays come around, Cloud prefers to spend the night in, alone, watching a movie. He often has rugby matches on Saturdays and can't stay out too late, though he will go out with the team after a game and Thursdays after practice. When asked for his favorite movie, Cloud picks 
Raiders of the Lost Ark. 
"It's about an anthropologist," he says with a touch of sarcasm and a laugh, adding, "and I, too, want to fight Nazis."